Welcome to the Jong Leren Schools
---

Stichting Jong Leren
Stichting Jong Leren (Young Learning Foundation) consists of 26 confessional primary schools with a pleasant atmosphere, where parents feel safe leaving their children and teachers enjoy working, because we: learn together, allow each other space, and challenge each other. These are our core values, and every school gives shape to this in their own unique way, so their pupils, parents and staff can reap the benefits.
The Art of Learning
Our main goal is to provide high quality education, which is reflected in our slogan "The art of learning". In this case "art" stands for craftsmanship and for creativity and inventiveness. These are important competences for both our pupils and the professionals working at Jong Leren. Especially in terms of learning.
Together we have worked out a strategic policy agenda on how we do this – now, and in the future. Our core values (we learn together, allow each other space, and challenge each other) are central to all our activities and actions.
About Jong Leren
Jong Leren was founded on January 1st 2016 after a merger between the educational foundations of VPCO De Basis and Stichting De La Salle. The school board has authority over 26 schools in the Zuid-Kennemerland, Haarlemmermeer and Aalsmeer regions with 500 employees and nearly 5700 pupils. The location of our schools can be viewed on the map (
Waar staan onze scholen?
).
Jong Leren cooperates in various fields at a regional level, such as partnerships for suitable education, childcare, teacher replacement and coordination with secondary education.
Mission Statement
At Jong Leren, we provide education we can be proud of. To provide quality education for every child, our schools set high ambitions and clear goals, and our well-motivated teachers offer transparent accountability for the results. At our schools the pupils are encouraged to utilize their skills and opportunities. We want our pupils to be able to develop optimally within their own capabilities and to prepare themselves for the future. To make this possible the schools of Jong Leren stimulate the pupils to take ownership of their learning process.
Quality education focusses on a broad development of pupils in a rapidly evolving society. Schools of Jong Leren teach children core subjects as well as modern, 21st century skills. The schools operate from three angles of approach:
Learning (curiosity and knowledge)
Working (skills)
Life (proactive attitude)
The governing board, staff, principals and teachers continuously work together to keep increasing the quality of our education. We strive to continue to grow on both professional and personal level. The job of the individual teachers is central to this philosophy, as both research and practice show that the approach of the teachers determines the educational gain for the children.
Education
The parental involvement is crucial to the educational performance of our pupils. We are convinced that the cooperation between teacher, parents and child (the 'core triad') is of incredible importance for the development of the child. This core triad forms the centre of our educational policy. We are constantly trying to find coordination and cooperation within this triad to sustain the healthy development and educational gain of pupils, both at home and at school.
More and more of our schools pay specific attention to multilingualism. At the moment the schools in Aalsmeer have a language class and Het Mozaïek and Antonius Ridderspoorstraat (both in Nieuw-Vennep) and the Nicolaasschool in Zandvoort offer a kind of multilingual education.
Future-oriented Education
Quality education focusses on a broad development of pupils in a rapidly evolving society. This development incorporates core subjects such as language, arithmetics, social sciences and expressive subjects, as well as 21st century skills, personality development, socialization and citizenship. Education is developing in such a way that social science (such as history and geography) are increasingly taught thematically, in order for pupils to 'learn to learn' even better. Especially 21st century skills and digital literacy have our full attention and are in full development at Jong Leren.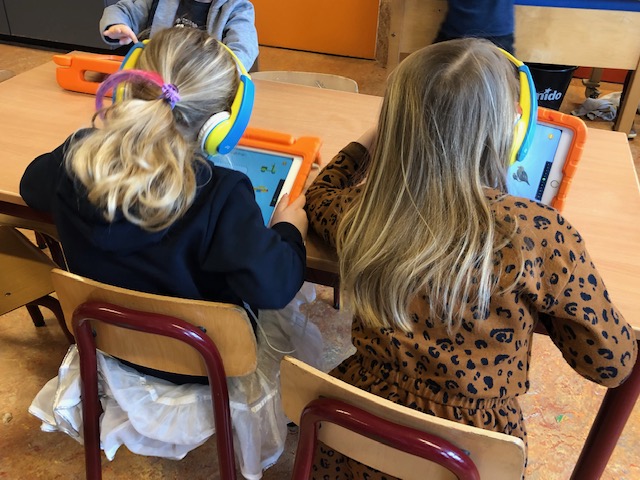 Tailored Education
Jong Leren believes that all pupils deserve the most suitable place in education. The foundation trusts in their talents and opportunities for development, and our schools offer children challenging education, where any obstacles are taken into account. If suitable, children attend regular education, where the teachers of Jong Leren prepare them as well as possible for further education and help them find their place in society. To achieve this, regular and special needs schools work together in regional partnerships.
Identity
Jong Leren is a confessional organization which offers pupils inspiring education based on its Christian tradition. Values such as love, respect, responsibility, reliability and security are the core principles on which we work, with a heart for the children and care for each other.
Jong Leren offers children the experience of a safe and inspiring community and learning environment at their school. During their time at school, children will learn to make important decisions and making a valuable contribution to living together in a developing society.
All pupils are welcome at the schools of Jong Leren, regardless of origin or philosophy of life.
We attach paramount importance to the wide diversity of the Christian tradition. It is important to us that our schools maintain and develop their Protestant, Catholic or inter-confessional identity within the context of contemporary society and their environment. This is expressed in philosophical learning, the competences of the teachers and the social role of the school. Every school gives substance to its own identity at its own discretion.
Welcome to our schools
If you are interested in enrolling your child at one of our schools, we encourage you to contact the school(s) of your choice. They will be happy to receive you for a tour and an introductory meeting.